If you've been paying attention to my social media or my shop links at all, you may have noticed that I haven't really been posting much in the way of new hide and bone art for the past year or so. It's not that I've stopped; I still make some fun things for my Patrons on Patreon every month, and I make some bone, tooth and claw jewelry on Etsy to order. But ever since events dried up, I haven't been regularly making new batches of costume pieces or other Vulture Culture art. My usual M.O. was to make all sorts of new things for an upcoming event, and then once the weekend was done and I was home, post whatever hadn't sold on Etsy. And since there haven't been events…well…I've just found myself doing other things.
Some of that is because I've had to scramble to make up for the lost income; events were a pretty big chunk of my "pay", and losing them meant having to tighten the belt. I also lost several other income streams thanks to the pandemic making it unsafe to be around groups of people, which didn't help. So I had to rely on what was left, along with adopting a few new sources of bits and bobs of cash here and there.
And, honestly, I've needed a bit of a break. I've been making hide and bone art for over two decades now, and while I love it, any artist eventually wants to explore different media for a while. Sure, I've stretched my Vulture wings in new directions, going from costume pieces and ritual tools to assemblages and the Tarot of Bones. But ever since the Tarot came out, I've been feeling….not really burned out, but a little creatively wrung out, at least. I've really appreciated my Patrons and Etsy customers who have helped me keep a hand in that particular medium, while also allowing me to head off in other directions, too.
Which is to say that if you have been paying attention to the aforementioned social media and shops, you may have also noticed that I've been increasing the number of customized Breyer model horses and other animals I've made over the past couple of years. This might seem like a heck of a departure from skulls, bones, and other dead things. But in a way it's really me getting back to long-neglected roots.
See, I was a horse girl when I was a kid. Or, rather, I was a wannabe horse girl. I never got to lease or own a horse, and even now in my early 40s I'm still about the greenest rider you'll find. (Seriously, I need one of those kid-proof horses that's seen it all, done it all, and is probably more trail-smart than I am.) But I was obsessed with horses from a young age. It started with my very first My Little Pony that I got Christmas morning, 1983 (Applejack, if you must know), and then exploded further with a book on how to draw horses and my first Breyer model (Black Beauty 1991 on the Morganglanz mold) in my preteens. Horse actually took over for Gray Wolf for a few years as my primary animal spirit during my teens, so we have a very long history indeed.
And since I couldn't have a real horse, I ended up collecting model horses, mostly Breyers with a few old Hartlands for variety. I had over 100 at the peak of my collecting, but I had to sell them all in my early twenties when I was between jobs. In hindsight it was probably for the best because having less stuff made it easier to get through the period of my life where I was moving about once a year, but I do miss that collection.
Back then I did my part to add to the artistic end of the model horse hobby, mostly with badly blended acrylic paint jobs and terrifying mohair manes and tails. But it made me happy, and that was the most important thing. Even though I only knew a couple other collectors in my little rural area, and my only real connection to the hobby was through the quarterly Just About Horses magazine Breyer put out, my collecting really made me happy in the same way that my first fur scraps and bones would catch my interest a few years later.
2020….well, it sucked. We all know that. Pandemic, political stress, financial roller coasters and more made it a really tough year for anyone who wasn't wealthy enough to hide away and weather it all. And many of us found ourselves with more time at home, in need of distractions and solace. It ended up being a time where many people rediscovered their love of childhood hobbies. I'm one of those people. I've been slowly edging my way back in for the past few years, starting with repainting a few old Breyer models found at thrift stores, and then gaining momentum as I found that not only was I much better at customizing these models than I used to be, but I was having fun without the pressure to make a living off of it. (Yes, I love my hide and bone art, but when an art form is your bread and butter, it changes your relationship to it. But that's a post for another time…)
So 2020 saw me really ramp up my customization efforts. I had to stop for a few months in summer and fall when I moved to a spifftacular new living space on the farm I've been working on the past few years (with, by the way, THE best studio space EVER!) but as the days shortened I found myself making more dedicated time to repainting and otherwise customizing models. I even started keeping a few of the models I'd bought to customize that were in better condition to create a small, but slowly growing original finish collection, and that really helped me feel like I was back in the (not actually a) saddle.*
That's why a well-established artist of organic, pagan-influenced arts made from fur and leather and bone and feather suddenly started painting all these secondhand plastic ponies. It's giving me that deep injection of childhood nostalgia balanced with adult skill and perspective, and it's offered me a much-needed break from the exhausting schedule I've been living the past decade or so. Because suddenly, even with the time spent rearranging my income opportunities to make sure I could stay afloat, I found myself with a little time that hadn't been scheduled to death, and when I thought about what I wanted to do with that time, I gravitated toward one of the few creative outlets in my life that was purely for fun.**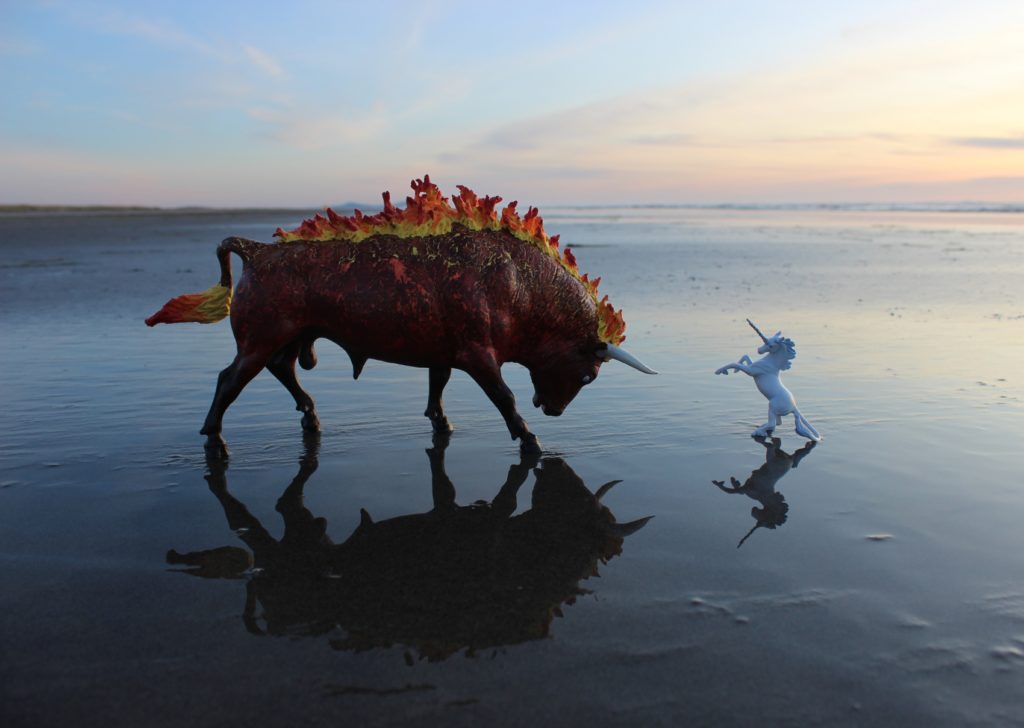 In a way having all my events canceled was one of the best things that happened to me, because it made me slow the fuck down. I no longer had several weekends a year where I had to spend weeks beforehand making art and otherwise preparing to be away from all my farm responsibilities for 4-7 days at a time, with all the packing and moving and setup and vending and teaching and teardown and going home and unpacking and exhaustion that goes with each event. I realized just how much each one was taking out of me, especially as I've gotten older. And I also recognized how much pressure I had been putting on myself to ALWAYS MAKE MORE STUFF FOR ETSY EVERY WEEK OR ELSE.
So the model horses are really sort of a symbol of the childhood joy I've managed to recapture, wresting time and energy back from my workaholic tendencies. I've even been thinking about what my professional life is going to look like once the pandemic eases up enough to allow events again, and whether I'll put the same amount of time toward vending and and teaching at conventions and festivals as I used to. (There are a few favorites that I'm not going to miss for anything, so don't worry about me dropping out entirely.) But for the first time in a very long time, I'm relearning to prioritize myself, and figuring out that maybe I don't have to go hell-bent for leather every week, every year, in order to keep the bills paid and the critters fed.
And maybe, just maybe, it's okay for this dead-critter-artist, pagan-nonfic-author, teacher-vendor-farmer, to indulge herself with something fun, and bet on the ponies to help her get through the tough times.
(P.S. Amid everything going on, I am back to working steadily on my next book, which I mentioned in this blog post almost a year ago. As a recap, its working title is Coyote's Journey: Deeper Work With the Major Arcana, and it's a deep dive into that section of the tarot using pathworkings with the animals I assigned to the major arcana of the Tarot of Bones. It's not just a Tarot of Bones book, though; it's a good way to get a new, nature-based angle on the majors in general, as well as hopefully gain a better understanding of yourself. My goal is to have it out later this year, self-pub of course, and at the rate I'm going it may end up being my longest book! Stay tuned, and if you want to get excerpts of the work-in-progress, become my Patron for as little as $1/month!)
*At the height of my "horse girl" phase, I had a really beat-up pony saddle I'd bought for ten bucks at a yard sale, and got a cheap saddle stand for it and put it in my room. And yes, I occasionally sat on it and pretended I was riding an actual horse. Hey, it made me happy at the time, and it was the closest I was ever going to get apart from a trail ride every few years.
**Yes, I do sell my customs. But I don't make them on a schedule, I take commissions VERY sparingly, and I'm getting to stretch some new creative muscles, especially in the realms of sculpting and painting, so this is primarily for my enjoyment. The sales are just a side benefit.