Note: This post was originally posted on No Unsacred Place in 2011, and then later Paths Through the Forests. I am moving it over here so I can have more of my writings in one place.
I am not a huge fan of "nature" as being separate from humanity. The perceived divide of "natural" and "artificial" may seem like a way to emphasize the non-human nature that we often seem to ignore, but it still reinforces the idea that we are somehow divorced from natural processes and cycles, especially in cities. I do, however, favor the concept of "wilderness". It evokes a place where humans have not had nearly as much of a dominant place in the ecosystem, and we can see more of what the rest of nature is like when we are just another critter in the woods (or fields, or desert, etc.).
Like many other Portland residents, while I live in the city proper, I do get out quite a bit to the wilderness areas that surround the metro region. Usually I'm off to hide somewhere in the Columbia River Gorge or spending a couple of days at the coast, but I've ranged further at times, depending on the situation.
This is a lifelong habit, this seeking less human-populated places for recharging and respite. When I enter the wilderness, I feel as though I am immersing myself in a rich, lush energy, though the nature of that energy changes from place to place. The treasures of the deserts of Eastern Oregon are of a distinct quality compared to the conifer forests of the Gorge. And the genii loci of these places are their own beings as well, though like the boundaries of the places, large and small, they shift and blend and overlap, less distinct than our linear minds might prefer.
As much as I might like to stay immersed in wilderness forever, I also recognize that I am an urban creature. I have wants and needs and obligations that require more connectivity of a human sort. And, admittedly, I like comfort. Snow hiking is much more fun when I know I have a warm home to go back to.
But I don't want to forget these places I've been, nor the often deep spiritual experiences I have while in their embrace, whether tender or terrifying. And so I collect small, single souvenirs for each place—a small stone, a Douglas fir cone, a piece of driftwood, a pheasant feather. I even got an antique glass jar lid from a local wetland that had been cleaned up after years of garbage being dumped there. And for every thing I take with me, I leave a bit of myself: hair, energy, water for a plant if I've enough to share. They come home with me, and I mark them with the date and the place as their number has increased with each place I become acquainted with.
They used to have their own shelf, but eventually they migrated over to one of my two primary altars. You can see them scattered around the top of it here, amid the small stone animals I've used to signify directional totems for many years.The relocation of those stones and sticks and such is significant. For years I had a fairly typical generic Wicca-flavored neopagan altar, with the directional markers (animals, of course) plus the tools I used back then (athame, wand, etc.) and my image of Artemis, all from various places around the world and having more abstract than immediate symbolism. Once I began to embrace shamanism–and bioregionalism–more deeply, the tools I no longer used so often ended up on a second altar specifically for ritual implements old and new, and that's when the gifts from the land spirits made their move.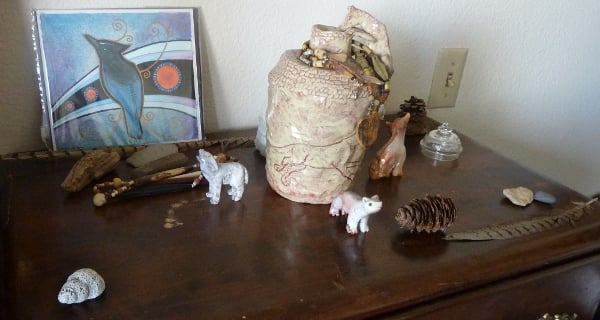 It's a beautiful weaving, actually. The centerpiece of the altar is a ceramic wolf-themed jug I made back in high school when I was first getting involved in paganism, and it represents me; it's decorated with a pair of scrimshaw fossilized ivory necklaces that were instrumental in the processes that brought me to the Pacific Northwest. Immediately surrounding it are the four animal statues—Grey Wolf/North, Brown Bear/West, Red Fox/South, and Red-tailed Hawk/East—that survived the shift from my early neoshamanism and neopaganism, through my chaos magic explorations, and on into my more formal shamanic path. They represent the roots of my practice, like a volcanic core of basalt that has survived the erosion of softer stone surrounding it over time.
Radiating out from them, oriented toward the places they came from, are the reminders of the places I've been. They ground my practice more deeply in the place I am at. Not only have the spirits of place taken me in, but their other denizens have as well, and increasingly my altars are covered in gifts from other locals—the mule deer leg bone that is the handle of the beater for my drum, or the portrait that Steller's Jay requested I get from the artist Ravenari in lieu of illegally possessing molted jay feathers.
Looking over these gifts, I can remember for a few moments—or longer, if I wish—what it was like to climb Dog Mountain in a November storm and nearly be blown off the summit; or the first time I met the Pacific Ocean; or the time I retreated to Bend, Oregon and found solace in the deserts there. I can remember the wildlife, and the plants, and the stones, and all the beings that come together in these places, just with these few small reminders.
And they're all invitations to come back, to reconnect, whether physically or through journeying spiritually. Even the places that scared me weren't out to get me; I simply wasn't observing enough respect for them. Every visit is a chance to try again, to go in deeper, to give more of myself to the land spirits and see what happens next.
Did you enjoy this post? Please consider supporting my work on Patreon, buying my art and books on Etsy, or tipping me at Ko-fi!