So for those who aren't already aware, the Asatru Folk Assembly FB page had a post earlier this week that pretty clearly shows their support of both racist ideals and rigidly narrow gender roles. In the event it ends up taken down, here's a screen shot:
Along with a couple of the comments they didn't delete: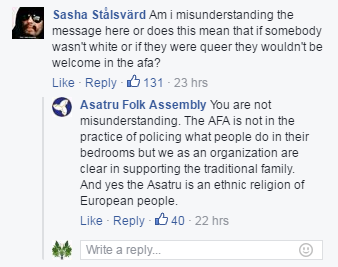 They make it VERY clear their organization isn't open to anyone who isn't white–never mind that "white" was a contrived term that not only erased the cultural differences of people from many different European backgrounds but also deepened divisions among people based on skin color. Plus check out the very overt message that QUILTBAG* people aren't allowed, either. And before you try to defend the AFA as only being about the promotion of European heathen traditions, notice how the comment about "Semite" "poison and tricks" was never deleted, while comments that the AFA folks didn't agree with have been getting removed within minutes. If that's not approval of white supremacy, I don't know what is.
There is nothing wrong with wanting to practice the religion of your pre-Christian ancestors. But "white people" are not an endangered species in need of protection, nor should European paganisms be closed off from people of non-European heritage. Considering the amount of travel and trade the Norse and other Europeans did with other communities for centuries, there was plenty of intermarriage with non-European people anyway, so there goes your notion of historical "racial purity". And given that a lot of heathens practice ancestor veneration, racial purity is a pretty big insult to those non-white ancestors and the people who loved/married/etc. them and considered them family. As to the insistence on men being men and women being women in a heteronormative framework, the All-Father Odin practiced the women's art seidr, Loki became a mare and gave birth to a colt, and women were often trained to fight alongside men. Even among the Norse things were not always that cut and dried when it came to gender roles.
We pagans have known for decades there were bigots in our ranks, particularly those espousing "folkish" viewpoints–and now there's absolutely no doubt whatsoever. Not all heathens consider themselves part of the pagan community (and definitely not all of them are racists!), but enough heathens of all sorts come to pagan events and otherwise share in pagan spaces that this declaration by the leadership of one heathen organization is relevant to paganism as a whole.
As someone who has walked a pagan path for twenty years, as someone who has written multiple books and led rituals and taught many in workshops and classes, as someone who is seen by some as at least a minor authority, and as someone who fully intends to continue being a part of the pagan community, I say: the stance of the Asatru Folk Assembly is not a part of my paganism.
White supremacy spewing hatred and racist fearmongering against racial and ethnic minorities? Not in my paganism.
Discrimination against QUILTBAG people? Not in my paganism.
Gender essentialism in which men must be one way and women must be another? Not in my paganism.
Insisting that the only "real" family is the nuclear, heterosexually-based family while all others–blended families, single parent families, childless families, families with gay parents–are invalid? Not in my paganism.
Allowing the bigotry that pervades the dominant culture to infiltrate our community without a fight? Not in my paganism.
Not in my paganism. Not in my paganism. #notinmypaganism.
*QUILTBAG = Queer, Undecided, Intersex, Lesbian, Transgender, Bisexual, Asexual, Gay