I was having a conversation with a fellow artist at the Sculptors Gallery in Portland last week. We started chatting about why people buy art, to include our own motivations. A lot of people considered to be "art collectors" are looking for a good investment. They'll drop thousands of dollars on a piece of fine art in the hopes that a few years down the line it'll be worth even more thousands–or even millions–of dollars. Others are buying pieces that match the colors and aesthetic of a particular room in their home, or because they have a space to fill on a wall or in a corner. On a more personal level, many collectors enjoy supporting artists they like, and on a grander scale they may endeavor to help an entire movement come to fruition.
My own motivations tend to come from a place of personal enjoyment. Sometimes I'll see an original or a print that really speaks to me, whether on an aesthetic or spiritual level (or both) and I decide I want to be able to keep looking at it. Very often the art has nature-based themes, and in our discussion I figured out the primary reason I like the art that I do: it reminds me of the wild places I've visited.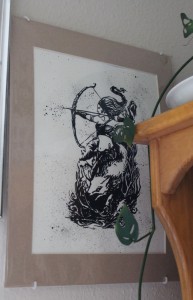 For someone who loves non-human nature as much as I do, I spend a terrifying amount of time indoors. Whether I'm typing away on the computer or sitting at my workbench, I can spend days at a stretch in the apartment. I usually have to schedule out my longer periods of outdoor time, like hiking and backpacking, which takes away a lot of the joy of spontaneity. So to help me keep my sanity, I surround myself with reminders of the world outside.
While a lot of that involves my natural history collection, like skulls and hides and such, I also have some select pieces of art, both originals and prints. Some of it is from artists I personally know; others I got at street fairs, galleries and other events, or ordered online. All of it, though, makes me intensely happy when I look at it. There are days when I've boosted my mood just by looking at what's hanging on the nearest wall.
And I know that while right now I'm in great physical condition, someday there will come a time when I'm no longer capable of doing multi-day backpacking trips on the slopes of Mt. Hood, or scramble down embankments for a swim in a river. And I want the art that I collect to be my solace, in tandem with my photos and memories. I want to still feel connected to these sacred places even when I'm no longer able to go to them myself. I don't have a lot of money for buying art, but what I do buy is part of an investment in a safe emotional space for the future.
So, let me ask you: why do you buy art? What makes you want to bring home something created by someone else's hands?
Want to add my art to your collection? Consider looking over my portfolio, checking out my Etsy shop, or becoming my Patron on Patreon!